The City of Richmond's annual Arts Awards recognize the achievements and contributions to the arts by Richmond residents, artists, educators, organizers and business leaders. 2018 marks the 10th year anniversary of the awards since the awards' inauguration in 2009.
This year I was nominated and selected as a finalist for the Youth Arts Award. This award recognizes a performing, literary or visual artist, 24 years of age or younger, who has demonstrated outstanding promise and commitment to the Richmond arts community.


The award recipients were announced at a ceremony at Richmond City Hall on May 15th, 2018.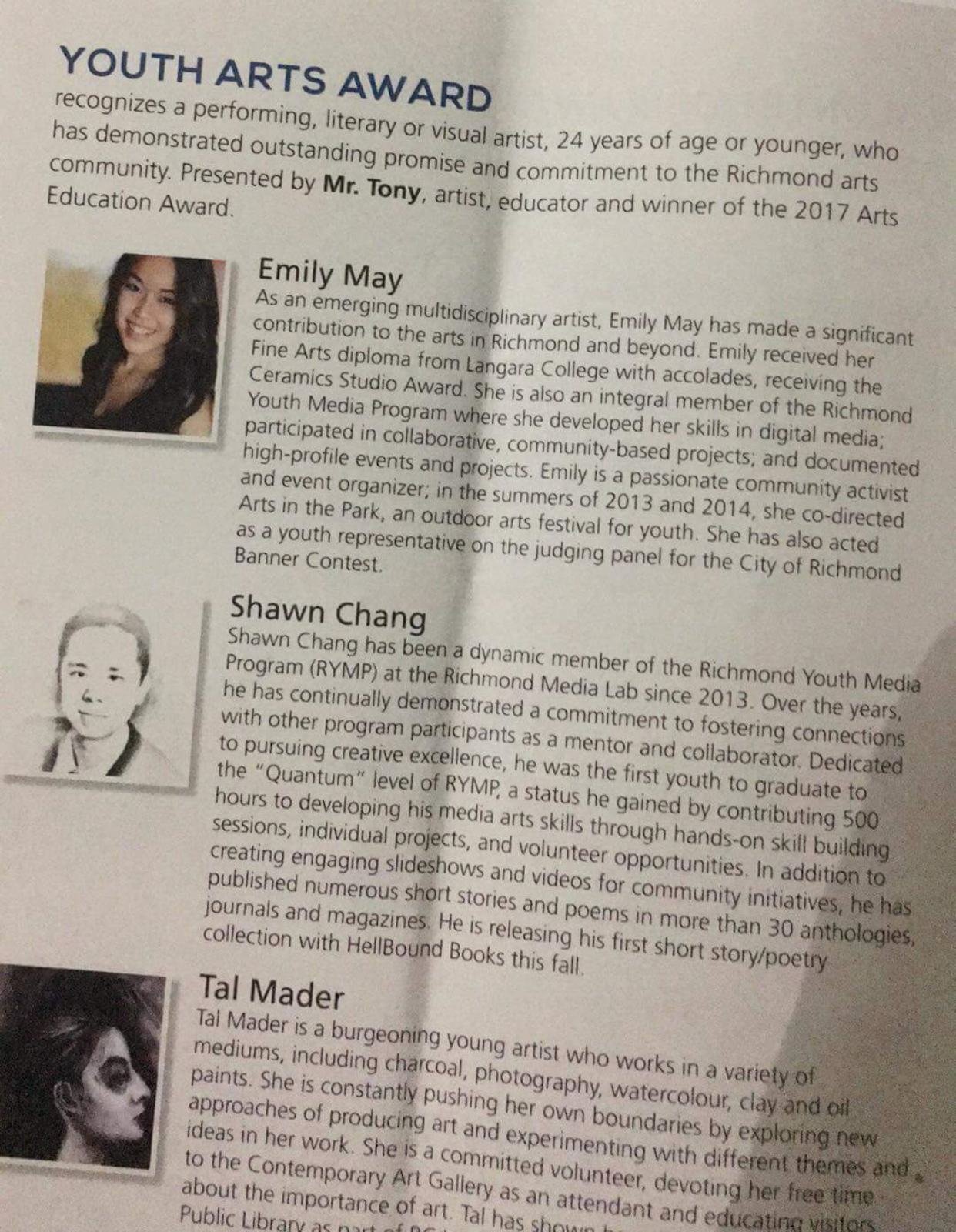 Here's a video from the ceremony. (Skip to 5:10 for my thank you speech.)

Emily's speech after the 5 min mark:
I am so honoured that I was selected as the winner of this year's Richmond Arts Awards in the youth arts category.
I especially wanted to send a thank you to Lauren Burrows Backhouse for nominating me for this award. You have been one of the biggest supporters of my dreams and for that I am forever thankful. Also, I wanted to thank all my family and friends and the community for supporting me along the way in this journey through words of encouragement and advice, honest feedback, kind actions, and so many other gestures that have touched my heart. :)
Since the time of my nomination, lots of exciting things have been happening to me in my artistic practice:
• In June 2016, I graduated from the fine arts diploma program at Langara College and graduated with a scholarship from the ceramics department.
• I participated in my first professional group show last year
• I managed to sell my work as an emerging artist
• I had a promotional feature written about me in Studio Magazine
Since 2012, I have been a part of the media lab's Richmond Youth Media Program. The lab has been an integral resource for me as an artist to develop my photography and design skills and try out other media skills of interest. I also found lots of media art related volunteer opportunities through the media lab. My favourite experiences included volunteering as a filmmaker and an event photographer for events such as culture days. Through the lab, I managed to make connections and collaborate with various youth, professionals, and organizations. I'm so happy to have these mutually beneficial experiences that really gave me the momentum to develop myself as an artist. One of the larger collaborative projects was Arts in the Park: a single day, youth-led outdoor arts festival for youth by youth in the summers of 2013 and 2014. I managed to co-found, direct, and do all the design work for this festival. All these projects I participated in have given me so many invaluable skills and experiences.
Next year, I will be finishing my BFA with a major in ceramics at the Nova Scotia College of Art and Design.
Already, all my digital art foundations have helped me. I am so excited to continue to see how my interests will develop my work and finding exciting ways to promote the arts within the community.
Thank you again for selecting me as the 2018 Richmond Arts Awards' recipient of the Youth Arts Award!